Halloween is just around the corner, and it's time to start planning that kick-ass rave costume for all of the upcoming Halloween EDM events! There's going to be a lot of events going on this year so this Halloween is the one to really go all out for when you're dressing up! planning the perfect costume will help make this Halloween an unforgettable experience! Here are some great costume ideas that you might find inspiring…
---
1. A Comic Book Superhero
Superhero costumes are a fun idea because there are so many different directions you can go in your interpretation of your superhero of choice, and what really makes it awesome is the fact that you can get super creative with it, and your costume will still be recognizable to most people as long as you have the appropriate superhero emblem somewhere.
2. A Circus Performer
In a circus, everything is designed with the purpose of wow-ing an audience, and things are never too over the top..so using those circus performers' flamboyant and colorful costumes as inspiration for a rave outfit is always a lot of fun. Not only that, but circus-themed rave outfits are also perfect for this year because of Insomniac's Escape 2015 Psycho Circus festival 10/30-10/31!
3. A Pokemon
There is no certain way to guarantee 100% for sure that you won't be dressed up as the same character as someone else at the same Halloween event. Creating a Halloween rave costume based on your interpretation of a particular Pokemon though can get you pretty close. It obviously varies depending on the Pokemon you choose, but since there are over 700 different Pokemon species, most of which are adorable, you could pick out a cute character to dress up as that NOBODY ELSE IS DRESSED UP AS! And if you don't know, it feels pretty rewarding to know that you're not only freaking adorable, but you're also the *only* adorable creature of that kind!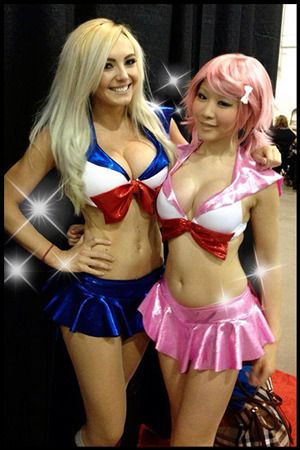 4. Sailor Moon / Any Sailor Scout
Year in and year out, any Halloween rave is for sure going to have a handful of Sailor Moons and/or other Sailor Scouts. It's just one of those costumes that doesn't go away. I think that's perfectly understandable when you consider the fact that a.) Sailor Moon's and the Sailor Scouts' original costumes in the show are soooo easy to make into rave outfits because they were already halfway there to begin with…and b.) A Sailor Moon costume is totally great if you're dressing up solo and, with there being 11 "official" Sailor Scouts (each with a distinct color scheme) to choose from, totally great for a group costume too.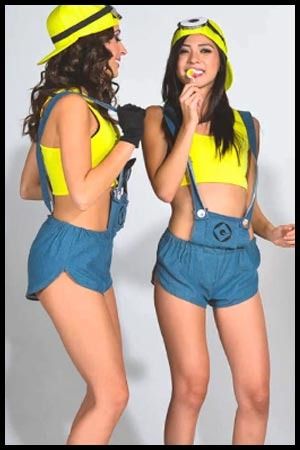 5. A Minion
If you're sitting there thinking to yourself about how there is absolutely nothing sexy about the yellow, squat, blob-like, gibberish-speaking, overall-sporting creatures called Minions from "Despicable Me", you're right. BUT…believe it or not…it is possible to make a minion costume super cute and sexy!All you need is something sexy and yellow on top paired with any kind of short short denim overalls, goggles, and the right boots/heels/fluffies/whatever!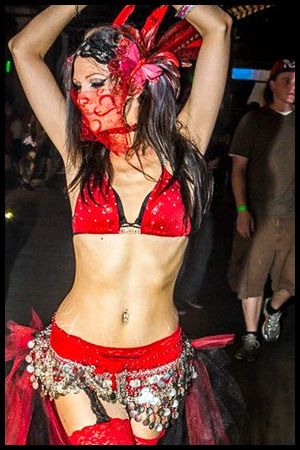 6. A Gypsy
I think that going with a gypsy themed rave outfit for Halloween is always a good choice because it's one of those costume ideas that can be done in a really creative way using the things that you already have in your closet. It's an easy costume idea to work with since you can go so many different directions with it. Plus, interestingly enough, traditional gypsy clothing was literally made for dancing, so where else more appropriate to dress up as a gypsy than a Halloween rave?
7. A Power Ranger
Most of you are probably old enough to remember how cool these guys used to be. Nothing put me in a good mood like dressing up as a Power Ranger did as a kid, and as it turns out, it's actually pretty fun doing it as an adult too! This is great if you are looking for a costume idea that is easy and doesn't have a bunch of random decorative frilly details to worry about. You could just put on rave clothes or whip up some kandi in your Power Ranger of choice's color, get the signature white Power Ranger diamonds somewhere (anywhere), accessorize with some white and off you go!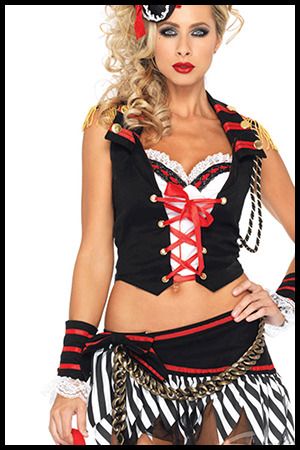 8. A Pirate
I haven't quite decided what I'm doing this year for Halloween as far as a costume goes, but I've been toying with the idea of dressing up as a pirate. I think a pirate is a great rave costume idea for similar reasons as why I thought a gypsy costume was a good idea– it's one of those concepts that can be created straight out of my closet with things I already have. Right now I'm on a strict budget each month (or at least trying to be), so a pirate Halloween costume is perfect because I can come up with something rad without emptying my bank account to do it.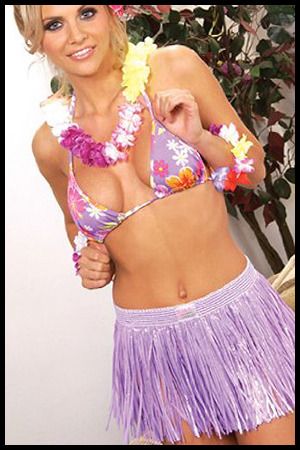 9. A Hula Girl
This one is pretty straightforward, you wouldn't even have to change much to make it into a suitable festival outfit…You already have a little skirt, paired with some kind of bikini top/rave top and then optionally accessorized with some kind of lei, or maybe a flower crown (which if you think about it is something you might've worn to the festival anyways). You could decide to give the hula girl image a bit of a twist too if you wanted to go but with the DIY and do something like add embellishments to the bra or make some kind of hairpiece or whatever, but I think this costume is best suited for those seeking simplicity in a rave outfit.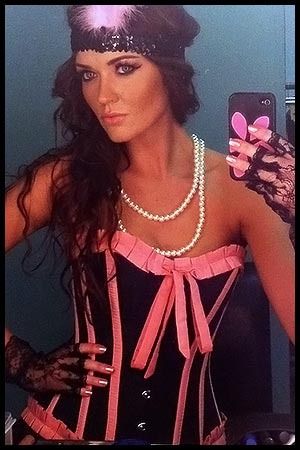 10. A 1920's Flapper
This kind of costume is a little more sophisticated looking than usual and a little bit on the classier side. To maintain the flapper image and to keep your costume recognizable, I'd suggest sticking to deeper and darker colors like black, plum, burgundy, navy, gold, silver, etc. You can still make your costume reasonably flashy though without it needing to be colorful, with things like feathers, fringes, sequins, blingy jewelry, or whatever other glitz and glam you feel like adding.
11. Wildcat
I like this costume idea because thanks to online shopping you can easily find any clothing item in the animal print of your choice, so you can go a lot of different directions with this. You can really create any look you want. This costume idea is also especially great if you're a spirit hood lover, because if you have a leopard or tiger print spirit hood handy then you're already halfway there!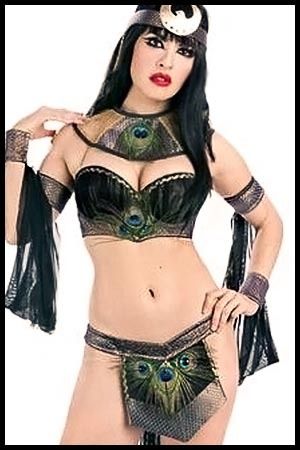 12. Cleopatra
I've always wanted to try dressing up as Cleopatra for Halloween, but haven't yet because it would be a bit more of a challenge to put together. In order to pull it off well (well enough for people to recognize you as Cleopatra, or at least as Egyptian), you would probably have to put a little more into it than one of the more simple costume options (the kind where you could just slap on the right logo, combine the right colors, and call it a day.) Someday I'm determined to make Cleopatra my rave costume project though, because I really dig the exotic, sultry look.
13. Disney Princesses
I think that being one of the Disney princesses (Belle, Cinderella, Snow White, et al) is an awesome costume idea because it's something that's recognizable to just about anyone who grew up in the USA (since familiarity with Disney classics is practically a prerequisite for being an American). That's definitely a good quality if you want to really go bananas with the DIY stuff and create your own unique rav-ified version of your favorite Disney princess' attire, because you can stray farther from the original and tweak it in more interesting ways without skewing the image so much that people no longer have any idea what you are dressing up as.
So that's it! I hope this list was a source of some inspiration for you and that you guys found it helpful! Hopefully I'll get to see some of your awesome costumes this year at Escape 2015 (that's where I'll be! =D), and if you have any more great costume ideas feel free to add them in the comments below!